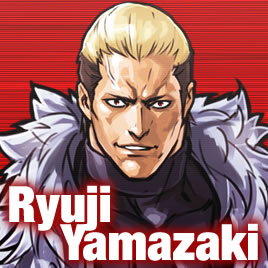 | | |
| --- | --- |
| NAME (OFFICIAL) | Ryuji Yamazaki |
| MODE OF COMBAT | Personal art of combative homicide |
| BIRTHDAY | August 8 |
| HEIGHT | 192cm |
| WEIGHT | 96kg |
| BLOOD TYPE | Type A |
| MEASUREMENTS | Unknown |
| BIRTHPLACE | Japan |
| HOBBY | Collecting knives |
| PERSONAL TREASURES | Anything that has to do with personal gain |
| FAVORITE FOOD | Horse sashimi |
| DISLIKES | Whitewashes and euphemisms |
| FORTE IN SPORTS | Has no trouble going three days without sleep |



* The above data is of the KOF ARCADE version.



Sadomaso
Serpent Slash
Double Return
Yaki Ire
Spray Sand
Bombshell Badda-bing
Plunge a Dagger


Freak-Out Fist(*Super Special Leader Move)
*The above data is of the KOF2003 version.



To bring the story that had grown too large and out of control back on track, the members of the Orochi 8ketsu Clan were teamed up in '97. By doing this, we thought, the story would reach its conclusion for the time being...but among the three new faces including Leona's father Gaidell, we lacked one more member for the 8ketsu. What should we do? ...And along came Ryuji Yamazaki to bail us out of our predicament.
A snake charmer that even looked like a snake, he became a popular villain. He once humbled himself, joined up with the Fatal Fury team, and blended into the world of KOF more than we had predicted.
The game planner at that time really knocked himself out to provide new moves for Yamazaki. Idea after idea got a short trip to the circular file (Attract opponent after Snake Charmer move; Seven Serpent Dagger Throw, etc.), and those failures led to successful moves like the Sand Sweeper.