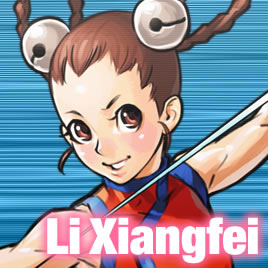 | | |
| --- | --- |
| NAME (OFFICIAL) | Li Xiangfei |
| MODE OF COMBAT | All Varieties of Chinese Boxing |
| BIRTHDAY | May 25 |
| HEIGHT | 160cm |
| WEIGHT | 45kg |
| BLOOD TYPE | Type B |
| MEASUREMENTS | 77.54.79 |
| BIRTHPLACE | U.S.A. |
| HOBBY | Napping |
| PERSONAL TREASURES | Her friends |
| FAVORITE FOOD | Shrimp-filled Chinese dumplings |
| DISLIKES | Etiquette |
| FORTE IN SPORTS | Sprints (short-distance running) |



* The above data is of the KOF ARCADE version.



Imperial Elbow Flash: Air Piercer
Imperial Elbow Flash: Heartburster
Heavenly Mountain Masher
Dream Wave
Feast of Pain
Vanguard Blast
Aerial Ether

Mighty Talus
Pure Heart Fang
Super White Dragon
*The above data is of the KOF2001 version.



When development began for KOF '99, the designers grappled over which character from Real Bout 2 to choose, Rick Stroud or Li Xiang Fei. Giving the reasons that a cute female character and a Chinese boxer was desired, they unanimously selected Li Xiang Fei. Needless to say, the designers who came to this decision were all men. Typical!
With the actual execution of this, however, the designers struggled to bring the character into the KOF world without ruining her image created in the Fatal Fury series.
As you all know Li's move names in the Japanese version are all derived from place names in Osaka, so the designers enjoyed the work of coming up with names following this rule when new moves were added. Moves like Eiki Shuho (Vanguard Blast, in English) and Daikoku-cho (Big and Ugly Ultimatum) give her twice the appeal for local fans...don't they?