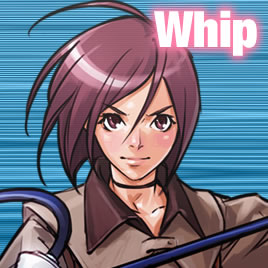 | | |
| --- | --- |
| NAME (OFFICIAL) | Whip |
| MODE OF COMBAT | Whip handling + Heidern style of assassination arts |
| BIRTHDAY | October 12 |
| HEIGHT | 173cm |
| WEIGHT | 59kg |
| BLOOD TYPE | Type O |
| MEASUREMENTS | ??? |
| BIRTHPLACE | Unknown |
| HOBBY | None |
| PERSONAL TREASURES | Whip's whip's |
| FAVORITE FOOD | Honey |
| DISLIKES | Traitors |
| FORTE IN SPORTS | None |



* The above data is of the KOF ARCADE version.



Boomerang Shot "Code: SC"
Hook Shot "Code: Zephyr"
Strength Shot Type A "Code: Prevail"
Strings Shot Type B "CODE: FORCE"
Strings Shot Type C "CODE: VICTORY"
Strings Shot Type D "CODE: RAIN"
Desert Eagle

Sonic Slaughter "Code: DP"

Sonic Slaughter "Code: KW"(*Super Special Leader Move)
*The above data is of the KOF2003 version.



The plan was to introduce this character in KOF '96, but since Leona was already a part of the Ikari Team she began her series of appearances in KOF '99.
Since Leona exposes comparatively more skin, Whip sports less revealing but body-hugging fashions that leave a little more to the imagination.
The number of dots used on Whip's whip were reduced to express a feeling of speed and power--a daring method of expression. The supervising designer was sweating bullets over this when the design was checked (he feared he'd be accused of slacking off), but in the end the concept was approved without incident.
The designers hoped that she would be accepted as an independent, whip-brandishing character rather than just another member of the Ikari Team. And we hope you keep an eye on her future activities.