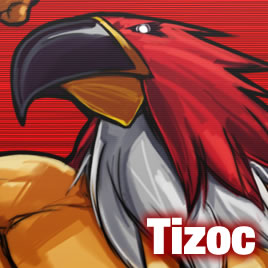 | | |
| --- | --- |
| NAME (OFFICIAL) | Tizoc |
| MODE OF COMBAT | Professional wrestling techniques |
| BIRTHDAY | April 25 |
| HEIGHT | 215cm |
| WEIGHT | 118kg |
| BLOOD TYPE | Type O |
| MEASUREMENTS | Unknown |
| BIRTHPLACE | Mexico |
| HOBBY | Cycling |
| PERSONAL TREASURES | His griffon mask |
| FAVORITE FOOD | "I'll eat anything!" (from "Interviews with Tizoc") |
| DISLIKES | Illegal moves and the wrestlers who use them without compunction |
| FORTE IN SPORTS | The triathlon |



* The above data is of the KOF ARCADE version.



Over Olympus
Poseidon's Wave
Active Tupian
Griffo Grab
Justice Hurricane
Hercules Throw
Icarus Crash

Big Fall Griffon
Deideros Attack

Big Fall Griffon(*Super Special Leader Move)
*The above data is of the KOF2003 version.



To tell the truth, "Raiden" was to appear in KOF 2003, but before the characters were finally decided on, Tizoc took his place.
Along with the change to KOF 2003's game system, we were able to create movements heretofore impossible with KOF until now, allowing us to add the style of Tizoc for that very reason.
It's unclear whether there were plans or not to introduce Grant from Fatal Fury: Mark of the Wolves along with Tizoc for a friendly tag team battle.
It may not be very well known, but the Japanese name for Tizoc is "Griffon Mask." But we felt "Tizoc" for the English version had a nice ring to it.