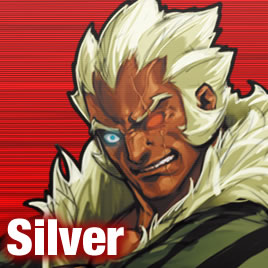 | | |
| --- | --- |
| NAME (OFFICIAL) | SILVER |
| MODE OF COMBAT | Karate |
| BIRTHDAY | July 9 |
| HEIGHT | 182cm |
| WEIGHT | 84kg |
| BLOOD TYPE | Type B |
| MEASUREMENT | Unknown |
| BIRTHPLACE | Germany |
| HOBBY | Sharpening his eyesight |
| PERSONAL TREASURES | °© |
| FAVORITE FOOD | Smoked foods |
| DISLIKES | Conservative things |
| FORTE IN SPORTS | Doesn't do them |



* The above data is of the KOF ARCADE version.



Cho Sarugeri
Kyukouka Kakatootoshi
Onihudounagashi

Cho Onihudounagashi
Rangeki
Cho Kakatootoshi

Chozetsu Sarugeri(*Super Special Leader Move)
*The above data is of the KOF XI version.



The original opportunity for Silver came from a divine mandate: °»Increase the characters!°…
At that time the characters in the running included such prominent candidates as °»Germand,°… °»Joker,°… and °»Kazu,°… but there was the contrast between hero and boss characters so we hit on °»Silver°… and °»Jyazu°… (whose selection let the Hyper NEOGEO sleeping in the warehouse see the light of day again).

This is what I realized while I recreated this character:
The character suffered from the dreaded triple handicap: °»Too few moves! (Not enough basic moves)°… °»Slow! (All of his moves didn°«t live up to KOF)°… °»No combo moves! (unworthy of KOF°ń).°…
His current incarnation was rearranged to live up to the current KOF standards, but it°«s ironic that the high-impact Monkey Kick is the key to beating him in the battles against the character.