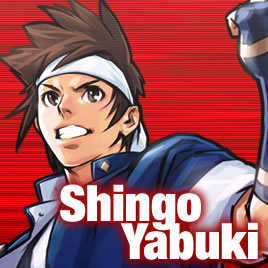 | | |
| --- | --- |
| NAME (OFFICIAL) | Shingo Yabuki |
| MODE OF COMBAT | (Self-styled) Kyo Kusanagi direct-taught style, Kusanagi style of ancient martial arts |
| BIRTHDAY | April 8 |
| HEIGHT | 179cm |
| WEIGHT | 71kg |
| BLOOD TYPE | Type O |
| MEASUREMENTS | Unknown |
| BIRTHPLACE | Japan |
| HOBBY | Collecting figurines |
| PERSONAL TREASURES | Life. Student handbook. Gloves from Kyo Kusanagi |
| FAVORITE FOOD | Frozen Japanese wheat flour noodles. Sardines. Chocolate |
| DISLIKES | Milk |
| FORTE IN SPORTS | Swimming. Water polo |



* The above data is of the KOF ARCADE version.



Beginner's Wild Bite
Beginner's Poison Bite
Beginner's Fire Ball
Shifting Circumvention
Crescent Moon Cruncher 212
Shingo Kick
Aerial Shingo Kick
Shingo's "Metal Malleator"

Burning Shingo
Phoenix Flamer

Shingo's Own Red-Hot Chariot(*Super Special Leader Move)
*The above data is of the KOF2003 version.



The code name for this character in the early stages was "Shingo Suzuki."
The plainness of his name conversely suited Shingo quite well, we thought, but what do you think?
He was originally based on Kyo with the concept of becoming a comic, everyday guy foil, but in spite of our intention to promote him simply and plainly, he was splashed all over the place and his silhouette appeared in pre-promotion campaigns in magazines, becoming an extensively hyped character. And his voice was supplied by the famous Japanese voice actor Taketo Koyasu.
And one more thing, Shingo is a character who can't shoot flames.
And probably never will (boo hoo).