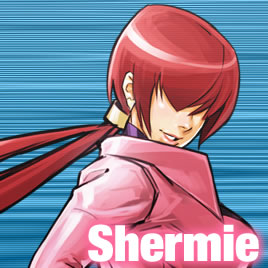 | | |
| --- | --- |
| NAME (OFFICIAL) | Shermie |
| MODE OF COMBAT | Throw Attacks Mainly (good at "Bridge") |
| BIRTHDAY | February 13 |
| HEIGHT | 173 cm |
| WEIGHT | 68 kg |
| BLOOD TYPE | Type B |
| MEASUREMENTS | 92cm,63cm,87cm |
| BIRTHPLACE | France |
| HOBBY | Band, French Films, Breeding Hamster |
| PERSONAL TREASURES | Personal Computer, Hamster |
| FAVORITE FOOD | Fish, Natto-Maki, Morning Special at Gyudon Restaurant |
| DISLIKES | Celery, High School Baseball |
| FORTE IN SPORTS | Figure Skating |



* The above data is of the KOF ARCADE version.



Shermie Clutch
Shermie Spiral
Shermie Whip
Diamond Bust
Shermie Cute
Axel Spinning Kick
F Captude

Shermie Crush
Shermie Carnival
Thunder Leg Lariat
*The above data is of the KOF2002 version.



Shermie is a glamorous girl who works as a fashion designer and plays in a band as a hobby.
But in fact she is one of the four Orochi leaders who's adept at body slams.
Come to think of it, she's quite an enigmatic character.
The material for Shermie the "Raging Lightning Flash" comes from L the Third.
And even more trivia: the character of Yashiro comes from Bl.. G... Xa..gle and the character of Chris is derived from A.T. V...ms.
The design for Shermie was easily decided on. Given her long bangs that will absolutely never reveal her eyes, she was called Tesse from Wakuwaku 7 at one time.
Her hidden eyes burn with a homicidal glare it is said, but there's no material that reveals what her face actually looks like.