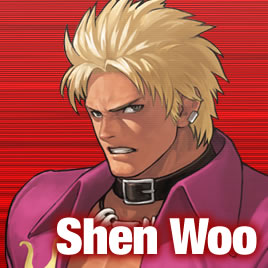 | | |
| --- | --- |
| NAME (OFFICIAL) | Shen Woo |
| MODE OF COMBAT | Personal style (Rowdy Barefisted Boxing) |
| BIRTHDAY | September 10 |
| HEIGHT | 188cm |
| WEIGHT | 97kg |
| BLOOD TYPE | Type B |
| MEASUREMENTS | Unknown (raised in France) |
| BIRTHPLACE | Unknown (raised in Shanghai) |
| HOBBY | Fighting tough opponents. Watching combative sports. |
| PERSONAL TREASURES | Evidence of his power |
| FAVORITE FOOD | Shanghai crab |
| DISLIKES | Jellyfish (really hates the smooshiness of them) |
| FORTE IN SPORTS | Ping-pong |



* The above data is of the KOF ARCADE version.



Furious Fist
Pouncing Tiger Pummel
Dropping Dragon Jab
Transient Thrusting Thrash

"You're History!" Furious Fist
Feral Feline Furioso

Exploding Reality(*Super Special Leader Move)
*The above data is of the KOF2003 version.



The first concept for this character was a wild and sexy guy.
The development codename for him was "The Third Man," and along those lines he became Woo Shen, his name "flip-flopping" to the current name, and the latter moniker seemed to stick.
Because Ash has his particular appearance (LAUGH), Shen, no matter how you look at it, appears more like the main character.
His character closely resembles certain aspects of Ralf and Yashiro in many ways, so designers toiled to create distinctive moves for this character.
According to the supervising designer, "What knotted my stomach most was the shortness of time we had for development." (Boo, hoo)
We look forward to Shen's future exploits in which he'll be even more violent than we have seen so far (that's all we have to say).