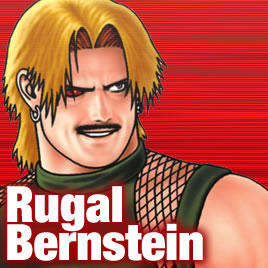 | | |
| --- | --- |
| NAME (OFFICIAL) | Rugal Bernstein |
| MODE OF COMBAT | A Gesamtkunst composite with mastery of all fighting styles. |
| BIRTHDAY | February 10 |
| HEIGHT | 197cm |
| WEIGHT | 103kg |
| BLOOD TYPE | Unknown |
| MEASUREMENTS | Unknown |
| BIRTHPLACE | Unknown |
| HOBBY | Resurrection |
| PERSONAL TREASURES | His evil heart |
| FAVORITE FOOD | He has no likes or dislikes. |
| DISLIKES | Justice, people who perform selfish evil. |
| FORTE IN SPORTS | None in particular, he can do them all. |



* The above data is of the KOF ARCADE version.



Gale Fist
Kaiser Wave
Genocide Cutter
Dark Barrier
God's Breath

Gigantic Pressure
Dead End Screamer
*The above data is of the KOF98 version.



The concept for this character at the time of KOF '94 was to make the mightiest (most violent) and most evil boss character ever.
As everyone knows, Rugal is the King of Bosses who boasts the most appearances in the KOF series as a boss character, but even considering the whole genre known as "competitive fighting games," his story and moves have changed ever so gradually while appearing in so many titles, he's one of the few bosses to have been loved (heh, heh) over such a long period.
In his character profile, you can see that his hobby is "resurrection" (but even after resurrection, he usually blows himself up (or destroys himself in the end...).
Incidentally, his super special move known as the "Deadly Creamer" was a move that breaks the neck of his opponent and crushes it, but it was seen as lacking drama so it evolved into a move in which he busts his victim's neck, crushes the victim, and then further spins the victim around to do more damage, and finally this neat move was finished off with a striking pose after, of course, he broke his victim's neck, pummeled him, and spun him around.
Incidentally, the names of his secretaries that appear in the KOF '98 victory sequence are Hermione (the red head) and Aya (the brunette).
The name of Rugal's black panther in KOF '94 is Rodem.