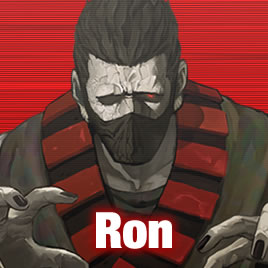 | | |
| --- | --- |
| NAME (OFFICIAL) | Ron |
| MODE OF COMBAT | Magic Mauling Evisceration Boxing, Self-Styled Exploding Fistwork |
| BIRTHDAY | May 15 |
| HEIGHT | 184cm |
| WEIGHT | 77kg |
| BLOOD TYPE | Poison |
| MEASUREMENTS | Unknown |
| BIRTHPLACE | Hebei Province, China |
| HOBBY | Japanese croquet |
| PERSONAL TREASURES | His own strength |
| FAVORITE FOOD | Dog (Dobermans) |
| DISLIKES | The remnants of the Hizoku |
| FORTE IN SPORTS | Cycling |



* This is not an entry-character.




The planners at the time enthusiastically came up with the idea of the Flying Brigands, the idea being to add a thrilling side story to KOF.
Ron became the chief of this bunch.
His first appearance came in the ending sequence for Benimaru's Team in KOF 2000.
This ending sequence got first-rate reviews for its content and presentation, becoming one of the most popular episodes in the history of KOF.
From KOF 2000 on, the background story became more complex on various levels, but subsequently SNK had a few problems (sniff, sniff) causing Ron's creators (the planners at the time) to go their different ways....
Whenever the current staff who continue to work on KOF run into the original staff on the train to work, they are sure to grill them about Ron's background (thanks for your cooperation, by the way!).
As a result of all this, he made a grand entrance as the boss characters' Striker in KOF 2001.
The numerous characters who were involved with him, too, continue their exploits in the world of KOF even now.
Ron is a character who uses the tricky actions from Chinese boxing and he continues work on reaching his ghoulish objective to be able to manipulate the dead.
Just when he'll be able to appear as a player character is a mystery even to us....