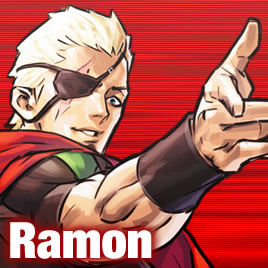 | | |
| --- | --- |
| NAME (OFFICIAL) | Ramon |
| MODE OF COMBAT | Lucha Libre |
| BIRTHDAY | December 3 |
| HEIGHT | 170cm |
| WEIGHT | 80kg |
| BLOOD TYPE | Type A |
| MEASUREMENTS | Unknown |
| BIRTHPLACE | Mexico |
| HOBBY | Playing with children |
| PERSONAL TREASURES | Mask given to him by his mentor, Vanessa |
| FAVORITE FOOD | Tacos, Tequila |
| DISLIKES | Foul play, Losses outside the ring |
| FORTE IN SPORTS | Pro Wrestling |



* The above data is of the KOF ARCADE version.



Tiger Neck Chancellery
Rolling Sobat
Flying Body Attack
Set-It-Off Smack
Tiger Lord/Feint Dash
Close Chop
Feint Step
Somersault/Added Move
Force of Will/Added Attack
Bird of Paradise

Tiger Spin
El Diablo Amarillo Ramon
Savage Fire Cat
Tiger Spin
Hypnotic Tiger
*The above data is of the KOF2002 version.



This character was designed with one of NEOGEO's major markets in mind, South America.
He's a stout, masked wrestler who uses tricky body slam moves.
These three points form the major concept behind the creation of Ramon.
Ramon's designer at the time loved pro-wrestling fighting moves, and we remember him carefully studying these. The fruits of this labor crystallized themselves in the Lucha Dolore known as Ramon.
With his use of "Lucha Libre" moves and not those of traditional "pro-wrestling," we hope you can enjoy experiencing the attention to detail, intensity, and enthusiasm of Ramon's designer at that time.