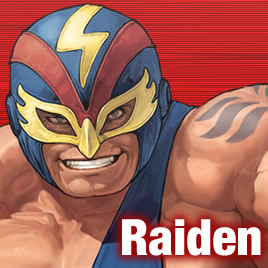 | | |
| --- | --- |
| NAME (OFFICIAL) | RAIDEN |
| MODE OF COMBAT | Wrestling |
| BIRTHDAY | March 3 |
| HEIGHT | 202cm |
| WEIGHT | 210kg |
| BLOOD TYPE | Type O |
| MEASUREMENTS | Unknown |
| BIRTHPLACE | Australia |
| HOBBY | Touring amusement parks, riding roller coasters |
| PERSONAL TREASURES | His mask collection |
| FAVORITE FOOD | Steak made from Australian beef |
| DISLIKES | Koalas |
| FORTE IN SPORTS | Football |



* The above data is of the KOF ARCADE version.



Giant bomb
Giant bomb(Feint)
Poison Mist
Raiden bomb
Head crash

*The above data is of the KOF XII version.



Raiden finally appears in the twelfth title of the series! A lot of fans hearts sing with his bulging masculine body and charming face

But he made his first appearance in the memorable tenth title! Or at least he was supposed to. With a single statement from a staffer°Ĺ°»I think Tizoc would be more popular overseas, and I don°«t think a new character will be so popular.°…°Ĺpoor Raiden had to wait a few more years to appear.

After his appearance was decided on for KOF XII, the uproar whether Big Bear should be used or whether he was viable or whether he should be a villain or whether he was supposed to have had a change of heart was in dispute up till the end. In spite of all this the character pretty much appears as he was originally conceived and the drawing staff continued to beef about the area that had to be colored in.