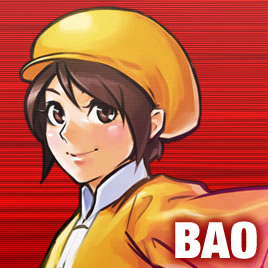 | | |
| --- | --- |
| NAME (OFFICIAL) | Pao |
| MODE OF COMBAT | Supernatural Power |
| BIRTHDAY | July 18 |
| HEIGHT | 153cm |
| WEIGHT | 40kg |
| BLOOD TYPE | Unknown (not examined) |
| MEASUREMENTS | Unknown |
| BIRTHPLACE | Unknown (maybe China) |
| HOBBY | Consumer games, Network games |
| PERSONAL TREASURES | B-Games, Hardware for home use |
| FAVORITE FOOD | Hot Milk (without sugar) |
| DISLIKES | Huge PRG |
| FORTE IN SPORTS | Fishing (in river) |



* The above data is of the KOF ARCADE version.



Psycho Ball Attack
Airbound Psycho Ball Flash
Forward Aerial Psycho Ball Crash
Front Psycho Ball Crash
Rising Psycho Ball Crash
Reflecting Psycho Ball Crash
Bounding Psycho Ball Crash

Psycho Ball Crash SP
Psycho Ball Attack III
*The above data is of the KOF2001 version.



Due to circumstances regarding the game structure, a new character had to be added to the Psycho Soldier Team, and various ideas for this additional character were formulated.
Some of these included: "a younger idol from Athena's agency;" "a love rival pitted against Kensou," "a mighty male character with a scary appearance but a heart of gold and a love of nature," "an old woman who looks after Chin Gentsai," and many others (we're really glad number four got the circular file...!).
With the appearance of Pao, the average age of the Psycho Soldier Team dropped dramatically...or was supposed to, but things didn't actually change that much (it dropped from 42 to 34 years old).