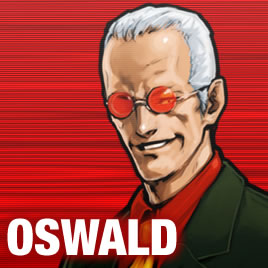 | | |
| --- | --- |
| NAME (OFFICIAL) | OSWALD |
| MODE OF COMBAT | "Karnoffel"--A method of assassination using cards. |
| BIRTHDAY | June 7 |
| HEIGHT | 189cm |
| WEIGHT | 78kg |
| BLOOD TYPE | Type AB |
| MEASUREMENTS | Unknown |
| BIRTHPLACE | Ireland |
| HOBBY | Building ships in a bottle |
| PERSONAL TREASURES | Trust |
| FAVORITE FOOD | Chocolate |
| DISLIKES | His past |
| FORTE IN SPORTS | Golf |



* The above data is of the KOF ARCADE version.





10°¶J°¶Q°¶K°¶A

JOKER(*Super Special Leader Move)
*The above data is of the KOF XI version.



He°«s an old gentleman who assumes a cultured role in small supply among KOF characters. Oswald is a man of many mysteries who hails from Ireland and is also called °»Trumpman°… or °»Old Man.°… His true character remains a mystery, but once°ń. This unique character is full of aspects that invite wild speculation such as his treasuring °»trust°… and loathing °»the past.°… (An Internet search surprisingly reveals that most of his background, which has not yet been revealed, has already been surmised. Incredible.)

Although one gets the impression that his image as a °»gentleman°… has been established, his actions are, for the most part, comical (and some quite strange). Many players have laughed at his transformation into a joker and his laugh when he indicates what command to enter when a command is mistakenly entered.

At the ending, he wages an brutal battle with Shanghai°«s fighting god Shen Woo in spite of the rain. This may be indicative of his dangerous personality.