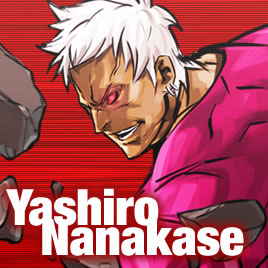 * The above data is of the KOF ARCADE version.




*The above data is of the KOF2002 version.



The characters commonly referred to as Shadow Yashiro, Shadow Shermie, and Shadow Chris were first formulated to balance out the Japan Team of Kyo, Benimaru, and Daimon.
Needless to say, Yashiro was "a character who used powerful body slams associated with the earth and earthquakes" in the same vein Daimon did.
He's a dynamic guy who doesn't fret over tiny details, but his hobby is playing guitar in his band. The band's name has never been officially revealed, but it is known as "C.Y.S." He idolizes the guitarist Paul Gilbert, and has quite a detailed background story to him.