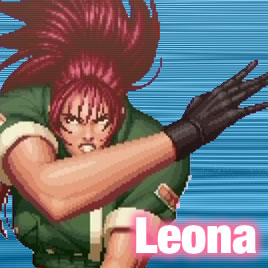 * The above data is of the KOF ARCADE version.




*The above data is of the KOF'97 version.



If Iori appeared berserk with the Orochi blood, the other successor in the bloodline of the 8-ketsu Clan, Leona, was also destined to go berserk someday.
That's how this character came abouté…but inexplicably the design team wanted to heat up battles against the computer. So various sequences such as televised broadcasts were added, and we provided a turn of nail-biting events that sent players to a "fork in the game" that would pit them up against either Orochi Iori or Orochi Leona in the end.
But savvy players who knew how to get a character to appear would b able to select their particular routes. Hope you all enjoyed this! You did, didn't you?