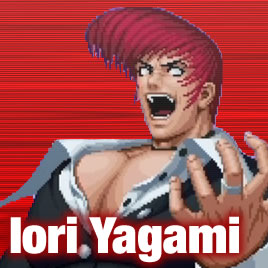 * The above data is of the KOF ARCADE version.



Fire Ball
Exorcism
Blue Blossom
Crescent Moon Crunch
Winds Of Waste

Rage Of 8 Maidens
Goblet Of 8 Elixirs
*The above data is of the KOF'97 version.



The powers that be, who created the stories for the boss characters to heat things up for the series with KOF '97, first decided to make the final boss an Orochi to conclude the series' "Orochi Saga." The stage bosses were an easy choice: the three remaining characters of the Four Orochi Deities. This was followed with the suggestion to make the final boss Iori, "berserk with the Orochi blood rage." So the "Minor," "Middle," and "Major" bosses were decided, with the "Orochi Iori" we know and love rounding off the quartet as the final boss.
Because this character was originally designed as a player character at the time, he's designed to mow down the other characters with relative ease.