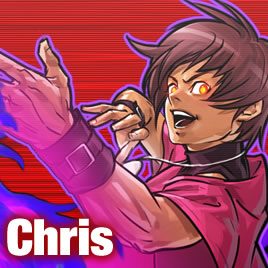 * The above data is of the KOF ARCADE version.




*The above data is of the KOF2002 version.



Chris, of course, is Kyo's counterpart, "a manipulator of flame."
At the inception of production, the plan was for Chris to use the "Flame of Darkness (Black Flame)," but the black flames were hard to see so the designers settled for purple ones.
When it came time to name Chris's arsenal of moves, we remember the director saying, "The Dark Orochi Wave sounds good." But other planners objected: "It's dumb for an Orochi character to have "Orochi Wave" as a move name. It's like saying, Call me Mr. Chris." Regardless, the director won out.