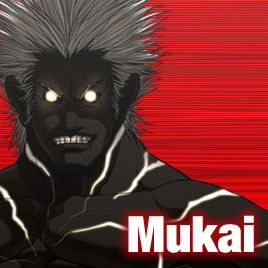 | | |
| --- | --- |
| NAME (OFFICIAL) | Mukai |
| MODE OF COMBAT | Unique form of combat techniques + ability to fossilize things |
| BIRTHDAY | Unknown |
| HEIGHT | 231cm |
| WEIGHT | 168kg |
| BLOOD TYPE | Unknown |
| MEASUREMENTS | Unknown |
| BIRTHPLACE | Unknown |
| HOBBY | Devising new combat moves and tactics |
| PERSONAL TREASURES | His instinct for battle |
| FAVORITE FOOD | Delicious dishes |
| DISLIKES | False displays of power. Bad food. |
| FORTE IN SPORTS | Combative sports |



* The above data is of the KOF ARCADE version.



Disruptor
Terrestrial Shock
Heavenly Shock
Execution


Netherworld Agony(*Super Special Leader Move)
*The above data is of the KOF2003 version.



With the belief that a fighting game boss "must be easy to understand," we adopted the "ability to fossilize" to give impact to Mukai's presence.
We then matched the design of this character to this ability. So as far as the procedure of development is concerned, Mukai was quite an unorthodox creation.
The concept and design came off without a hitch, but arriving at his name was a difficult process. If you write his name in Chinese characters, his name would be"

", or something like that, but the moment we decided to represent it in Japanese katakana, his name became rather plain, the kind of putz you'd find living next door. The reaction of people to this name was: "Huh?" or something similar along that line.
He's among the first of the KOF series boss characters who would be graced with the Japanese honorific of "-san."