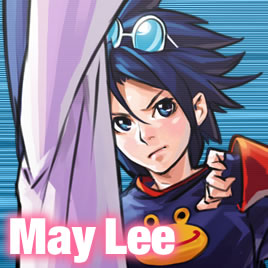 | | |
| --- | --- |
| NAME (OFFICIAL) | May Lee |
| MODE OF COMBAT | Tae Kwon Do (Personally arranged) |
| BIRTHDAY | May 24 |
| HEIGHT | 164cm |
| WEIGHT | 47kg |
| BLOOD TYPE | Type B |
| MEASUREMENTS | Unknown |
| BIRTHPLACE | Korea |
| HOBBY | Video Viewing (Especially Special Effect Hero Film) |
| PERSONAL TREASURES | A Red Muffler and a pair of Gloves that were presented by someone |
| FAVORITE FOOD | Fried Chickens, Cold Noodle |
| DISLIKES | Evil |
| FORTE IN SPORTS | Tae Kwon Do |



* The above data is of the KOF ARCADE version.



Standard
Lightning Needle
Spinning Edge
Approaching Beatle
Dinosaur Footprint
Sword Fish
Blazing Intercept
Into Sky
Surprise Air
Surprise Air Finish

God's Tall Tinker Bell
Disposition Frog

Hero
Full Swing Chop
May Lee Chop
Shining Thunder Blow
May Lee Break

May Lee Dynamic!
May The End
Key Of Victory
*The above data is of the KOF2002 version.



One raison d'etre for May came from a consideration of the needs of our Korean fans.
In addition to that, Eolith, a sponsor at the time, expressed their desire for a character like a "Korean Athena."
This request asked for an "idol-like visual fighter," or something along that line, and we recall that it really threw us for a loop.
Through trial and error, we arrived at a character that was a long way from the original concept, but with this process May Lee, the perky tae kwon do fighter for justice, was born.
We got her name from the person who was in charge of Eolith (Eolith Co., Ltd.) at the time.