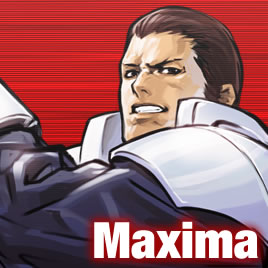 | | |
| --- | --- |
| NAME (OFFICIAL) | Maxima |
| MODE OF COMBAT | "M Style" of fighting arts |
| BIRTHDAY | March 2 |
| HEIGHT | 204cm |
| WEIGHT | 219kg |
| BLOOD TYPE | Type A |
| MEASUREMENTS | Unknown |
| BIRTHPLACE | Canada |
| HOBBY | Motorcycle touring |
| PERSONAL TREASURES | His sideburns |
| FAVORITE FOOD | Any kind of sweets |
| DISLIKES | Fermented soybeans. Indecisive people. |
| FORTE IN SPORTS | Rugby |



* The above data is of the KOF ARCADE version.



M-4 Vapor Cannon
M19 Blitz Cannon
System1.2Maxima Scramble
Double Bomber
Bull Dog Press
SYSTEM 3: Maxima Lift
Centaur Press (Added Attack)
M-11 Dangerous Arch

Maxima's Revenge
Bunker Buster

MX-II Final Cannon(*Super Special Leader Move)
*The above data is of the KOF2003 version.



With the growing influence of teenagers, it seems the concept for Maxima evolved from a desire to introduce a sober and reliable middle-age character (sad state of affairs though when a twenty-something male is referred to as "middle-aged").
The designers were initially supposed to design a character that used body slams, but the finished character became a fist-fighter. Strange how things happen, isn't it?
Maxima was originally modified by the male scientist Dr. Makishima, but in a serialized KOF comic that came out in Hong Kong, he, for some reason, became a "beautiful woman doctor." This comic is hard to get your hands on in other parts of the world, but check it out if you have the opportunity.