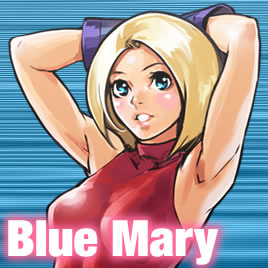 | | |
| --- | --- |
| NAME (OFFICIAL) | Blue Mary |
| MODE OF COMBAT | Commando sambo |
| BIRTHDAY | February 4 |
| HEIGHT | 168cm |
| WEIGHT | 49kg |
| BLOOD TYPE | Type AB |
| MEASUREMENTS | 88cm,54cm,85cm |
| BIRTHPLACE | U.S.A. |
| HOBBY | Motorcycle touring |
| PERSONAL TREASURES | Her leather jacket |
| FAVORITE FOOD | Rice topped with beef and broth |
| DISLIKES | Cats |
| FORTE IN SPORTS | Baseball |



* The above data is of the KOF ARCADE version.



Spin Fall
M. Spider
Straight Slicer
Crab Crunch
Vertical Arrow
M. Snatcher
M. Reverse Face Lock
M. Headbuster
Real Counter
Backdrop Real

M. Typhoon
M. Dynamite Swing

M. Twister Rose(*Super Special Leader Move)
*The above data is of the KOF2003 version.



Receiving the strong support of fans in a magazine's popularity poll, Blue Mary made her name known to the public, appearing in KOF from '97.
Losing to Blue Mary in the popularity contest, as a matter of fact, was Duck King.
This popularity contest truly decided the fate of these two.
From '97 to '03, Mary became a regular to the series for the staff. Duck, on the other hand, hit the skids, and he was relegated to cameos at the side of screens, in backgrounds, or as a Striker character. Doesn't this fleeting episode make you think about the impermanence of everything?
Since the designer in charge of Mary preferred her outfit in Fatal Fury 3, she's kept that look until now. It seems to have worked.