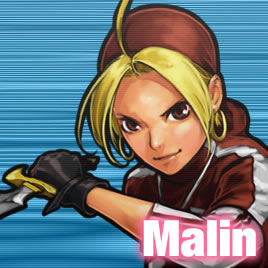 | | |
| --- | --- |
| NAME (OFFICIAL) | Malin (real name unknown) |
| MODE OF COMBAT | Style that utilizes various legal and illegal weapons |
| BIRTHDAY | February 4 |
| HEIGHT | 156cm |
| WEIGHT | 45kg |
| BLOOD TYPE | Type O |
| MEASUREMENTS | 83cm, 60cm, 84cm |
| BIRTHPLACE | Osaka, Japan |
| HOBBY | Playing the clarinet and koto (Japanese harp) |
| PERSONAL TREASURES | Her order-maid hammer |
| FAVORITE FOOD | Suanlatang (vinegar-pepper soup). Curry soup. Spicy food. Sour food. |
| DISLIKES | Bugs. Frogs. |
| FORTE IN SPORTS | Badminton. Swimming. |



* The above data is of the KOF ARCADE version.



Terrestrial Yellowjacket
Demon Arachnid
Poison Scorpion


Smashing Salamander(*Super Special Leader Move)
*The above data is of the KOF2003 version.



KOF 2003 saw the absence of Choi Bounge, so why not make a nimble and cute girl character?! And with that sentiment, Malin was born.
It took quite an effort to arrive at the initial design for this character, but when we entered the actual work for KOF 2003, the creation of this character was a piece of cake.
In the appearance sequence, the supervising designer poured his sincerity into the transformation scene. But the Arcadia magazine realized that she wasn't included in their feature articles and regretted their mistake.
If you consider our preferences, we insisted on the spelling for this character to be "Malin" and not "Marin." This is the humble preference of the supervising designer and a mystery to us all.