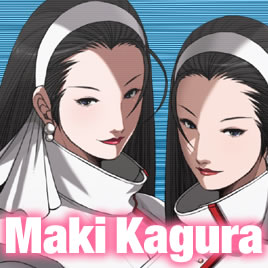 | | |
| --- | --- |
| NAME (OFFICIAL) | Maki Kagura |
| MODE OF COMBAT | Kagura style of ancient martial arts |
| BIRTHDAY | June 26 |
| HEIGHT | 169cm |
| WEIGHT | 52kg |
| BLOOD TYPE | Type AB |
| MEASUREMENTS | 85cm, 57cm, 84cm |
| BIRTHPLACE | Japan |
| HOBBY | Sleeping. Tuning up Chizuru's motorcycle |
| PERSONAL TREASURES | Her teacup |
| FAVORITE FOOD | Spicy foods (salted and sweetened dishes) |
| DISLIKES | The fate of the house of Kagura |
| FORTE IN SPORTS | Motorcycle racing (participates reluctantly at behest of her sister) |



* The above data is of the KOF ARCADE version.



Verity of the Imperial Trinity
Condolences of Kagura
Shinto Psalms of Kagura
Holy Hemp of Sakaki
Heralding of the Blessed
Holy Fortress of the Guardian
Hymn to Creation
Turtle God of Kyoto Crunch

The Vigilance of Creation
*The above data is of the KOF2003 version.



If the younger sister Chizuru Kagura is the stork, the elder sister Maki Kagura's name comes from the tortoise (storks live a thousand years, but tortoises live 10,000).
The background story for these two twins comes from KOF '96, but with their appearance in KOF 2003, some designers suggested Maki's hair be shortened to distinguish her from her kid sister. She appears in KOF 2003 as she always does (Her bangs are slightly different, however, so people who have confidence in their powers of observation, beware!).
For the location test of KOF 2003, many players who defeated Chizuru were vanquished by the awesome elder sister Maki. So the fate of players was often decided with the appearance of Maki-you just don't mess around with this character!