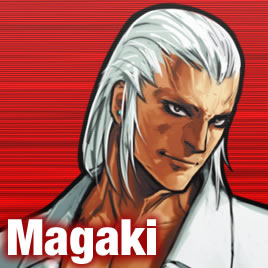 | | |
| --- | --- |
| NAME (OFFICIAL) | MAGAKI |
| MODE OF COMBAT | Manipulating Air Mashing Techniques |
| BIRTHDAY | Unknown |
| HEIGHT | 206cm |
| WEIGHT | 97kg |
| BLOOD TYPE | ??? |
| MEASUREMENTS | Unknown |
| BIRTHPLACE | ??? |
| HOBBY | Investing in stocks |
| PERSONAL TREASURES°° | The glory of victory |
| FAVORITE FOOD | Prosciutto crudo |
| DISLIKES | Fools |
| FORTE IN SPORTS | Nothing special |



* The above data is of the KOF ARCADE version.



Phantom sphere
Exploding sphere
Dimension sphere
Dimension claw
Somewhere hall

Vanish
Universe distortion
*The above data is of the KOF XI version.



We appropriated a design for the final boss of a new shooting game for Magaki.

°ńBut I kid! Based on his fearsome barrage and disgusting behavior in the demo, Magaki is a loathsome character who is reviled by a wide cross-section of players.
It°«s been written in fanzines, but the concept for the character is °»a nasty guy.°… His appearance, actions, moves and personality were all designed to give that visceral °»Why you!°… reaction. So for all of you players angry at being defeated by Magaki°«s barrage, that°«s what the game°«s all about. To make him a hated character, we made him thus. So don°«t hate the person who thought him up too much.

Incidentally, Magaki°«s hobby is the °»market.°… No, not grocery shopping! Finance. He apparently got hooked on buying stock while studying humankind and as a result of this he°«s made a big hole in the market to fund his organization°ńor so rumor has it.

The origin of his name came from the concept °»a name resembling Mukai that can additionally be associated with someone evil°… which I had the scenario writer decide. The fact these names can also be found among Japanese surnames (
) is a hidden plan to add to the appeal. I wonder if we can go on using this technique now?