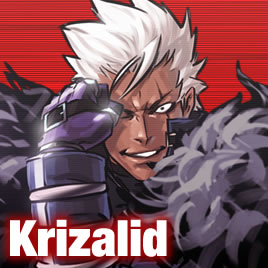 | | |
| --- | --- |
| NAME (OFFICIAL) | Krizalid |
| MODE OF COMBAT | Fights using fight data stored in his battle suit fed through his body |
| BIRTHDAY | October 23 |
| HEIGHT | 188cm |
| WEIGHT | 83kg |
| BLOOD TYPE | Type AB |
| MEASUREMENTS | Unknown |
| BIRTHPLACE | Ireland |
| HOBBY | Collecting clones of celebrities |
| PERSONAL TREASURES | His underlings |
| FAVORITE FOOD | Sports drinks, butter sandwich crackers |
| DISLIKES | Meetings that have no purpose |
| FORTE IN SPORTS | None |



* The above data is of the KOF ARCADE version.



BEFORE METAMORPHOSING
Negative Anguish
Demon Landing

AFTER METAMORPHOSING
Typhon's Rage
Lethal Impact
Rising Dark Moon
Desperate Moment
Moment Penetration

End Of Heaven
End Of Eden
Desperate Overdrive
*The above data is of the KOF'99 version.



Krizalid was designed as a KOF boss character with a straight, stylish appearance and earnest strength. He boasts Super Special Moves with dazzling effects, unleashes incredibly destructive projectiles, has invincible anti-air and speedy dash moves...
The supervising designer at the time has a few regrets over him even now: "I think I overdid it a little."
As a matter of fact a number of unused graphics accumulated on the NEOGEO version due to various circumstances, and the designer spent many a night wetting his pillow with tears of disappointment (but they were finally brought before the public with him becoming a player character in the Sega Dreamcast version.)
Although Krizalid is a "boss character," if you liken the syndicate known as NESTS to a company, he wouldn't be the president but a mere mid-level manager along the lines of a section chief. That explains the "TREASURED POSSESSION: His underlings" comment in his bio info above.
He just may be a good section chief with his subordinates' interests in mind, who knows?