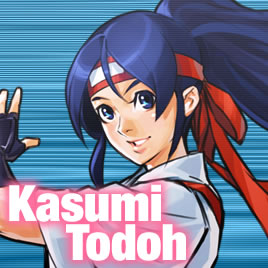 | | |
| --- | --- |
| NAME (OFFICIAL) | Kasumi Todoh |
| MODE OF COMBAT | Todoh Ancient Martial Arts |
| BIRTHDAY | March 29 |
| HEIGHT | 154cm |
| WEIGHT | 45kg |
| BLOOD TYPE | Type B |
| MEASUREMENTS | 75cm, 54cm, 78cm |
| BIRTHPLACE | Japan |
| HOBBY | Watching videos (especially splatter flicks) |
| PERSONAL TREASURES | An amulet from a special person |
| FAVORITE FOOD | Croquet Napolitan from the meat shop on her way to school |
| DISLIKES | The things her mother teaches (Japanese dancing, flower arrangement, tea ceremony) |
| FORTE IN SPORTS | Aikido, Archery |



* The above data is of the KOF ARCADE version.



Ecstasy Crunch
White Moutain Peach
No-Toss Annihilator
Fakeout Punch Kick Crunch
Double-Fisted Flattener
Hurricane Halberd Press
Successive Slammer

Mind's Eye Vine Sling
Ultimate Ecstasy Crunch
*The above data is of the KOF2000 version.



When Yuri took her leave of the Woman Fighters Team, Kasumi was the obvious choice to fill her shoes.
At that time, Art of Fighting 3 was released, and she was active as a player character, so in the interests of synergy, that's how she came to appear in KOF.
Her Super Special Move "Fakeout Punch Kick Crunch" was a dazzling move once meant to counter male character attacks only.
By the way, as far as Kasumi goes, you can't forget about her father, Ryuhaku Tohdoh. He appears almost without fail in the background scenery of KOF every year, and "Where's Ryuhaku?" is a private joke among his fans.
Perhaps he even appears in this game as Another Striker to secretly support his beloved daughter.