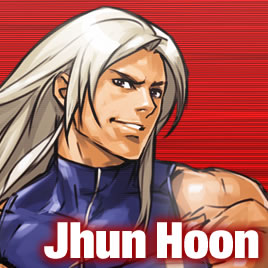 NAME (OFFICIAL)




Jhun Hoon

MODE OF COMBAT

Tae kwon do

BIRTHDAY

July 26

HEIGHT

177cm

WEIGHT

77kg

BLOOD TYPE

Type O

MEASUREMENTS

Unknown

BIRTHPLACE

Korea

HOBBY

Collecting cologne. Being a pop idol groupie

PERSONAL TREASURES

All of Yusami Mori's CDs (limited first pressings).
Seagull figurines. Akina Nakamori concert videos.

FAVORITE FOOD

Eel. Clams. Arrowroot gruel.

DISLIKES

Prawns. Family name (because the Chinese character Jhun

is two strokes less than his original name of Kim

.

FORTE IN SPORTS

Billiards. Darts.



* The above data is of the KOF ARCADE version.



Full Moon Slice
Sand Slicer
Exhaust Attack
Wall of Swooping Eagles
Eagle Talon Slash
Annihilating Lone Eagle
Stalking Tiger Pounce
Flying Tiger Attack
Raging Tiger Assault
Pouncing Tiger Attack
Raging Tiger Talons

Phoenix Talon Tear
Heavenly Dance of the Phoenix

Jhun's Phoenix Talon Tear(*Super Special Leader Move)
*The above data is of the KOF2003 version.



The savior (?) of Chang Koehan and Choi Bounge, an evil fighter who's Kim's alter-ego, a fellow disciple who looks like Kim - these were some of the concepts for Jhun, but as you can gather from the current character he's way different from what was planned.
And since he's not an evil character, this naturally meant Chang and Choi would not be saved from their predicament; so, sadly, they continue to walk the slow and steady path to redemption that they've been walking these long 10 years.
Jhun is also the first character in KOF history to adopt the concept of the "pose."
Coming up and creating this kind of move really put the designers to the test.