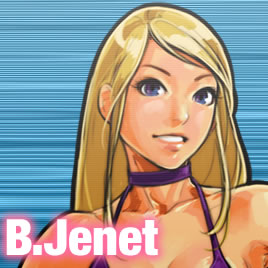 | | |
| --- | --- |
| NAME (OFFICIAL) | B. JENET |
| MODE OF COMBAT | Combat Arts of the Reeling Knights |
| BIRTHDAY | January 23 |
| HEIGHT | 167cm |
| WEIGHT | 49kg |
| BLOOD TYPE | Type AB |
| MEASUREMENTS | 86-57-89 |
| BIRTHPLACE | England |
| HOBBY | Nail art |
| PERSONAL TREASURES | Her compatriots in the Reeling Knights, newest weapons built to Reeling Knights specs |
| FAVORITE FOOD | Sirloin steak (carefully stored in her pantry) |
| DISLIKES | Diesel ships (because they stink) |
| FORTE IN SPORTS | Tennis, horseback riding |



* The above data is of the KOF ARCADE version.



Baffrass
Crazy Ewan
Gulf Tomahawk
The Hind
Harrier bee

Many Many Torpedos
Aurora

Ennui Mademoiselle(*Super Special Leader Move)
*The above data is of the KOF XI version.



Among the Fatal Fury MOW characters who still enjoy popularity is the third character to enter the battle, Jennie Behrn. Since she was such a firmly established character, the designers and planners took pains not to ruin her original image.

The band of the Lillien Knights all appear not only during the victory sequences but the ending sequence as well. This involved Hotaru visiting the Pao Pao Cafe to search for her brother which resulted in a tumultuous uproar. I got some grief from the animators who said it was rough to draw so many characters (the resolution for the graphics of KOF XI°«s endings was particular high and involved a lot of painstaking work), but since I wanted every character on screen, I pretended not to hear them.