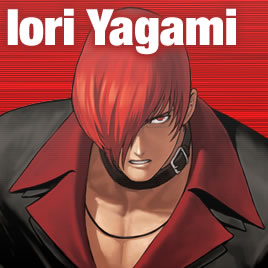 | | |
| --- | --- |
| NAME (OFFICIAL) | Iori Yagami |
| MODE OF COMBAT | Yagami style of ancient martial arts + Pure instinct |
| BIRTHDAY | March 25 |
| HEIGHT | 182cm |
| WEIGHT | 76kg |
| BLOOD TYPE | Type O |
| MEASUREMENTS | Unknown |
| BIRTHPLACE | Japan |
| HOBBY | Playing in bands |
| PERSONAL TREASURES | None |
| FAVORITE FOOD | Meat |
| DISLIKES | Violence |
| FORTE IN SPORTS | Everything |



* The above data is of the KOF ARCADE version.



Fire Ball
Dark Thrust
Deadly Flower
Winds of Waste
Dark Harp Moon

Maiden Masher
Bloom of the Wolf
Ura 108 Yasakaduki

Trinity Two(*Super Special Leader Move)
*The above data is of the KOF2003 version.



Since the KOF '95 project began with the concept of introducing Iori as Kyo's rival, he became known as a character who was a member of a rival school of martial arts that had a connection to the Ancient Arts of the Kusanagi. He was also given the ability to use a different color of flames other than Kyo's (red flames), along with various other characteristics.
When you think of Iori Yagami, his intense personality most likely comes to mind.
His moves are unique, and his singular choice of hairstyle, wardrobe, and manner of speaking was certainly a personality that broke the mold for characters in fighting games at that time.
During the initial location tests to determine the popularity of the game, Iori was the character who stood out most. His hair and his lines to provoke his opponents ("You think I'm scary, do you?") excited his fans to no end.
What set him apart are his memorable lines:
"You cry! You scream! Then you die!"
"Think of me when you gaze at the moon."
And a whole catalog of others too numerous to list here.

He's a character with a long history that promises more excitement in the future.
Keep your eyes on this guy!