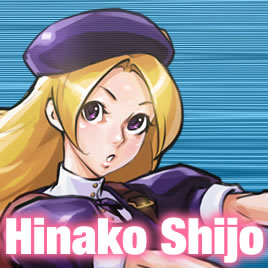 | | |
| --- | --- |
| NAME (OFFICIAL) | Hinako Shijo |
| MODE OF COMBAT | Sumo wrestling |
| BIRTHDAY | March 3 |
| HEIGHT | 154cm |
| WEIGHT | 42kg |
| BLOOD TYPE | Type B |
| MEASUREMENTS | 83cm, 56cm, 83cm |
| BIRTHPLACE | Japan |
| HOBBY | Collecting sumo ranking lists, making herb products (potpourris and herb tea) |
| PERSONAL TREASURES | A teddy bear she received as a young girl |
| FAVORITE FOOD | Sumo stew made by her private cook, tea, petit-fours |
| DISLIKES | Bugs, sour stuff, piano practice |
| FORTE IN SPORTS | Horse riding, halberd jousting |



* The above data is of the KOF ARCADE version.



Thruster
Rising Thruster
Piledriver
Gauntlet Toss
Overhead Slam
Judo Jab
Trip to Pain
Upper Body Slam
Chop Drop
Hellacious Headbutt

Decisive Game
Twisting Smash

Double-Fisted Chest Blast(*Super Special Leader Move)
*The above data is of the KOF2003 version.



At first designers sought to create a character similar to Chie in the Japanese comic Jarinko Chie (Downtown Story) who used sumo moves.
The supervising designer, however, succumbed to insistent requests to use "a debutante," and Hinako gradually transformed into a wellborn young maiden. She was to fight barefoot, but that idea got eighty-sixed. The tape remaining on her fingers is a tiny remnant of her original concept.
Since her appearance grew further and further away from that of a sumo wrestler, the names for her moves use those of actual sumo moves to preserve the essence of the sumo wrestler in her original character.