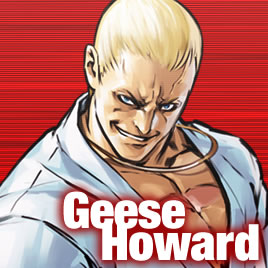 | | |
| --- | --- |
| NAME (OFFICIAL) | Geese Howard |
| MODE OF COMBAT | Ancient Martial Arts |
| BIRTHDAY | January 21 |
| HEIGHT | 183cm |
| WEIGHT | 82kg |
| BLOOD TYPE | Type B |
| MEASUREMENTS | Unknown |
| BIRTHPLACE | USA |
| HOBBY | Undetermined (he's starts things then gets tired of them) |
| PERSONAL TREASURES | Himself |
| FAVORITE FOOD | Steaks cooked rare |
| DISLIKES | People who stop his ambitions |
| FORTE IN SPORTS | None (he is good at billiards, though) |



* The above data is of the KOF ARCADE version.



WINDRIPPER PUNCH
DOUBLE WINDRIPPER PUNCH
WHIRLWIND SLAM
UPPER BODY SLAM
MID-SECTION BODY SLAM
EVIL ILLUSION SLAM
FLYING SUN SLICER

*The above data is of the KOF'96 version.



The dream event for SNK's most recognizable characters!
...and what dream event would be complete without the appearance of Geese?
Naturally, he's the character who people hope appears in the game each year, and there were plans to have him appear in KOF '95 long before. Various considerations at the time, however, led developers to abandon this plan. Then, with the time being ripe, Geese reappeared in KOF '96.
Even throughout the game, this boss team received special treatment: things like leitmotif music were prepared for each member and at the time of this title's release, enthusiasm for this game reached a feverish pitch.
Numerous special moves were prepared for Geese, but in view of the memory capacity and time required for adjustments, a good number of Super Special Moves had to be left out. A waste, really...