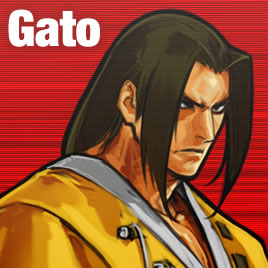 | | |
| --- | --- |
| NAME (OFFICIAL) | Gato |
| MODE OF COMBAT | Chinese martial arts rigid boxing arts (Fists of the 8 Extremes, Six Meeting Fists of Heart and Mind, etc.) |
| BIRTHDAY | May 27 |
| HEIGHT | 180cm |
| WEIGHT | 82kg |
| BLOOD TYPE | Type A |
| MEASUREMENTS | Unknown |
| BIRTHPLACE | Unknown |
| HOBBY | Chinese calligraphy |
| PERSONAL TREASURES | Necklace that is his mother's keepsake |
| FAVORITE FOOD | Tom yom koong |
| DISLIKES | People who disparage themselves |
| FORTE IN SPORTS | Swimming |



* The above data is of the KOF ARCADE version.



Quaking Fang
Piercing Fang
Wind Fang
Vortex Fang
Whirling Fang
Arrow Fang
Sliding Fang
Backdraft Fang
Swift Fang
Counterattack Fang
Cipher Fang
Fang of Blackness


Flaming Serpent's Fang(*Super Special Leader Move)
*The above data is of the KOF2003 version.



Keeping the demands of the Chinese market in mind, we included a user of orthodox Chinese boxing in the game to follow our marketing plans and enter the battle with Tizoc from Fatal Fury: Mark of the Wolves.
Halfway through the development process, he became the character that was busy getting burned, frozen, and slapped around with a giant metal ball by other characters to experiment with the overhauled program.
When Gato appeared, many groundless rumors circulated that "Hotaru had made a comeback" and other such rumors to the same.
Whatever command you enter, be aware that Hotaru Futaba is nowhere to be found in KOF 2003, and Gato is here to stay!