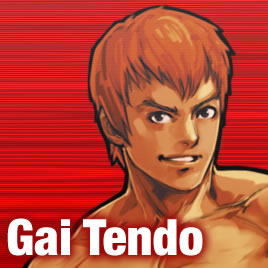 | | |
| --- | --- |
| NAME (OFFICIAL) | GAI TENDO |
| MODE OF COMBAT | Comprehensive Style of Combat Arts |
| BIRTHDAY | April 11 |
| HEIGHT | 175cm |
| WEIGHT | 75kg |
| BLOOD TYPE | Type B |
| MEASUREMENTS | Unknown |
| BIRTHPLACE | Japan |
| HOBBY | Singing songs |
| PERSONAL TREASURES | Head bully of his group |
| FAVORITE FOOD | Sugar cane |
| DISLIKES | Boredom |
| FORTE IN SPORTS | None(He's not interested in sports) |



* The above data is of the KOF ARCADE version.



Back tornado
Gai wheel
Gai driller
Slider
Front step
Knee upper
Right hook
Fist bottom hook
Buck knuckle
Bridge sway
Bridge sway upper
Flog down
Gai spider

Ring of solitude
Rush
Rush (Added Attack)
Rush (Finish Attack)

Taiman match (*Super Special Leader Move)
*The above data is of the KOF XI version.



°»A °»Buriki°… character in KOF? You can°«t be serious!°…
Though we knew everyone would feel the same way, Gai Tendo make his shocking debut.
And Hiroaki who was responsible for the characters original illustrations was entrusted with his comeback. Life is mysterious, isn°«t it?

Since there was no need to prepare materials like character backgrounds, the artist for this character had it made in the shade (LOL). In spite of this I had a lot of requests for this character, and, come to think of it, it made for quite a strange story.

We really worked hard to nail the °»Buriki°… feeling, from his moves to his appearance.
I hope we proved to be successful°ń.