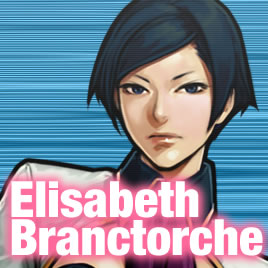 | | |
| --- | --- |
| NAME (OFFICIAL) | ELISABETH BRANCTORCHE |
| MODE OF COMBAT | Combat Arts of Blan + Way of the Fists of Light |
| BIRTHDAY | November 1 |
| HEIGHT | 174cm |
| WEIGHT | 58kg |
| BLOOD TYPE | Type A |
| MEASUREMENTS | 90/58/86 |
| BIRTHPLACE | France |
| HOBBY | Wine tasting |
| PERSONAL TREASURES | Duty and Pride |
| FAVORITE FOOD | Wine (Chateau Latour) |
| DISLIKES | People who hold no beliefs,slackers |
| FORTE IN SPORTS | Horseback riding |



* The above data is of the KOF ARCADE version.



Etincelle
Coup de vent
Platine mirage


Noble blanc(*Super Special Leader Move)
*The above data is of the KOF XI version.



During the initial phases of KOF XI, the concept for this character was to present her as Ash°«s rival, but as planning for the character and her story proceeded, the idea of her more as a °»guide°… than a °»rival°… took shape. The °»Lady Counselor°… label in some magazine descriptions is a remnant of that time. °»Naked°… is another example of this.

Whether her subtle concept proved to be a curse or not, it was difficult for other designers on the team to grasp her essence, coming up with the design of the character (her figure on horseback and whip alone were relatively original aspects) was a real trial.
She°«s a character with an orthodox fighting style and subtle idiosyncracies in her moves.
She fights making up for her small number of moves with a refined technique and bursts open with Leader Super Special Moves. °ńMind you, so did I when I dreamed this up.