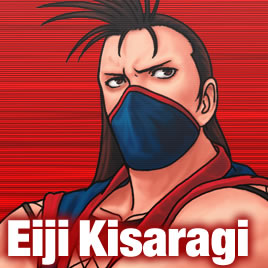 | | |
| --- | --- |
| NAME (OFFICIAL) | Eiji Kisaragi |
| MODE OF COMBAT | Kisaragi Ryu Ninjyutsu |
| BIRTHDAY | December 25 |
| HEIGHT | 172 cm |
| WEIGHT | 70 kg |
| BLOOD TYPE | Type B |
| MEASUREMENTS | Unknown |
| BIRTHPLACE | Japan |
| HOBBY | Practice for new techniques |
| PERSONAL TREASURES | My own fist |
| FAVORITE FOOD | Preserved food, Good-keeping food |
| DISLIKES | Kyokugen Ryu |
| FORTE IN SPORTS | A Ninjya never plays sports |



* The above data is of the KOF ARCADE version.



Spirit Blast
Shadow Slicer
Stallion Kick
Mist Slash
Bone Cutter
Steel Wave Slasher
Shadow Attack

*The above data is of the KOF'95 version.



He's a character that entered from the Art of Fighting gang.
In KOF '95, we went with the plan to introduce Iori Yagami to the project as the rival to Kyo Kusanagi. We added him to Iori team (speaking in ill terms, one set), but as you players know, he met a tragic end at the conclusion, receiving the wrath of the Art of Fighting team.
At the time, designers talked about giving Eiji's healthy bangs the qualities of ¼Ōpoison needles¼Õ that could be manipulated with the A button. ¼ĖWe're glad we never did this. (Laugh.)
When adjusting the balance of the game, Eiji's Heavenly Charger kick was deemed too powerful and he became one of the game's mightiest characters.
In '96, Eiji and Takuma were omitted, followed by Kasumi and Big in '97, whenever a new title appeared, an Art of Fighting character disappeared thanks to a KOF jinx, however many Art of Fighting characters subsequently reappeared in KOF.