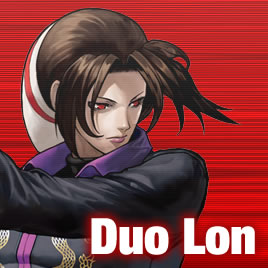 | | |
| --- | --- |
| NAME (OFFICIAL) | Duo Lon |
| MODE OF COMBAT | Piercing Pugilism of the Wailing Underworld, Preternatural Curse Combat |
| BIRTHDAY | March 11 |
| HEIGHT | 189cm |
| WEIGHT | 79kg |
| BLOOD TYPE | Unknown |
| MEASUREMENTS | Unknown |
| BIRTHPLACE | China, Hebei Province |
| HOBBY | Hunting for unidentified organisms. Mahjong |
| PERSONAL TREASURES | The edicts of the Flying Brigands. His mother's keepsake. |
| FAVORITE FOOD | Bird of paradise roasted whole |
| DISLIKES | Tomato juice |
| FORTE IN SPORTS | There are no sports he's bad at. |



* The above data is of the KOF ARCADE version.



Spectral Smash-Inner Fang
Fierce Fang Phantasm Kick
Flying Hair Punt
Selfless Serpent of Submission
Bilious Serpent Slam
Cleaving Mortality
Transmigration Stomper
Reinforced Satan Step
Reinforced Thieving Demon

Secretive Wall of Wraiths
Secretive Shade of the Damned

Mysterious Multiple Dark Drubber(*Super Special Leader Move)
*The above data is of the KOF2003 version.



When speaking of the Flying Brigands, you have quite a collection of especially unique-looking characters, but Duo Long is, unlike those of his ilk so far, an orthodox, handsome character. The model for this character is a certain Romanian vampire and hunter with the same first letter for his name.
A subtly embroidered dragon is depicted on the back of Duo Lon's costume, but according to the illustration's supervising designer Falcoon, this character sports a detailed character that follows the steady work of traditional craftsmen with the scales drawn one at a time.
...This is almost impossible to discern in prints (Boo, hoo.)
This character is a gloomy and mysterious Flying Brigand, so keep your eyes on Duo Lon's upcoming exploits; the scales may just fall from your eyes (Laugh)!