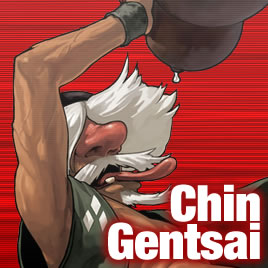 | | |
| --- | --- |
| NAME (OFFICIAL) | Chin Gentsai |
| MODE OF COMBAT | All types of Chinese Kung Fu (mainly uses the Drunken Fist) |
| BIRTHDAY | April 27 |
| HEIGHT | 164cm |
| WEIGHT | 53kg |
| BLOOD TYPE | Type A |
| MEASUREMENTS | Unknown |
| BIRTHPLACE | China |
| HOBBY | Mah-jong, taking naps |
| PERSONAL TREASURES | Liquor |
| FAVORITE FOOD | Lemon-marinated salmon, fried rice with lettuce ...etc |
| DISLIKES | Panda bears |
| FORTE IN SPORTS | Walking, yo-yos |



* The above data is of the KOF ARCADE version.



Gourd Blast
Moon Madness
Serpent Adversary
Carp Can Can
Gyo Sen Tai
Goblet Gouge
Spinning Sky Strike
Willow Wallop
Volcano Maw
Improved Inferno Summons

Brimstone Blast
Inferno Summons
Sui Sou En Bu
Sei Gan Rai Ryu
*The above data is of the KOF2002 version.



When we first decided to try our hands at a fighting game, we felt we just had to have a geezer who used the Drunken Fist form of martial arts. Getting the OK, we introduced this character as Athena's teacher. As we aimed to create a genuine Drunken Fist master, we thought it would be hard to get the right touch, but since our designer was good at drawing old guys, the finished product far exceeded our original expectations. Unfortunately for the designer, he was unable to shake this habit and all of his subsequent characters tended to look like spry old men.