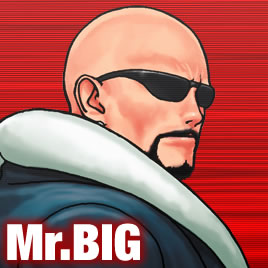 | | |
| --- | --- |
| NAME (OFFICIAL) | Mr.BIG |
| MODE OF COMBAT | Stick Arts |
| BIRTHDAY | July 4 |
| HEIGHT | 187cm |
| WEIGHT | 81kg |
| BLOOD TYPE | Type B |
| MEASUREMENTS | Unknown |
| BIRTHPLACE | Unknown |
| HOBBY | Making plans to take over Southtown |
| PERSONAL TREASURES | All of the city (Southtown) |
| FAVORITE FOOD | Recently he's crazy about Japanese food |
| DISLIKES | People who get in the way of his plans |
| FORTE IN SPORTS | He's busy so he doesn't have time for sports. |



* The above data is of the KOF ARCADE version.



GRAND BLASTER
CROSS DIVING
SPINNING KRAUSER
CRAZY DRUMMER
CALIFORNIA ROMANCE

*The above data is of the KOF'96 version.



For a variety of reasons, the Krauser of KOF got a bad rap, but BIG received favorable reviews from the fans.
BIG is an austere villain brimming over with adult appeal-that's the character of Mr. BIG.
The behavior of the women who hang with him also is based on a certain video the designers of the time often watched. The woman mutters, "He's bad," but just what does that actually mean? The truth remains a deep mystery.
During the development stage, a positive slide for his Super Special Moves included one labeled "Spinning Stick Thrust, Kind of Like an Anti-Air Assault." We'd like to think that the move wasn't scrapped because of the vagueness of its name, but it's too bad the general public never got to see it. It rocks!