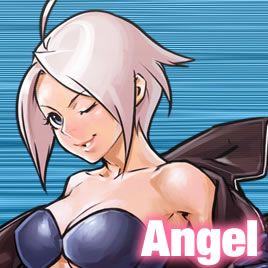 | | |
| --- | --- |
| NAME (OFFICIAL) | Angel |
| MODE OF COMBAT | Perfunctory♥ |
| BIRTHDAY | March 6 |
| HEIGHT | 168cm |
| WEIGHT | "Write it down and you die!" |
| BLOOD TYPE | Type O |
| MEASUREMENTS | 92cm, 60cm, 89cm |
| BIRTHPLACE | Mexico |
| HOBBY | Riding 50cc motorcycles, live concerts |
| PERSONAL TREASURES | Vintage B-3, deck coat, and P-D series clothes |
| FAVORITE FOOD | Tequila, raw cactus slices |
| DISLIKES | Gambling |
| FORTE IN SPORTS | Soccer (mainly goalkeeping) |



* The above data is of the KOF ARCADE version.



Red Sky of Yaponesia
Mad Murder Roulette
Unchain Circle (UC starting command)
Senseless Fists
Formalist Blue
Citizen of the World
Reppun Kamui
Beyond Flames
Unchain Circle (UC Circle command)
Bye-bye Rogue
Important Symptom
Buggy and Coffin
With a Lamp for the Pathway
Train to See Cherry Blossoms
Shelter from the Storm
Unchain Circle (Special Circle command)
Omagatoki
Unchain Circle (UC finishing command)
Crown under the Sky
State of Heat Haze
Full-Moon Evening
Cosmic Futen Swing
Lost Homeland
Beyond Flames

Loyalty Test for the Liberalists
Winds Fair Ground
Blue Monday Parade
Survivors Banquet
*The above data is of the KOF2001 version.



Angel was realized through the overwhelming passion of her designer (LAUGH). You could say that there was just no stopping him. You can see his preferences in almost every aspect of her.
She's a real rascal who has a lot of special moves like the "Unchained Circle" and is one tough customer to deal with.
We splurged on the voice for Angel in KOF 2001 and hired Mina Tominaga, a famous Japanese voice actress.
Angel's designer was quite pleased with that...we think.