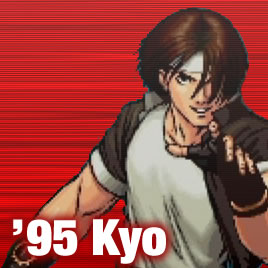 * The above data is of the KOF ARCADE version.



Dark Thrust
Fire Ball
Nebulous Gyration
Crescent Moon Flash

*The above data is of the KOF'98 version.



Because the introduction of different versions for this character included as "hidden features" in KOF '97 was such a hit with or fans, we thought another version of Kyo in KOF '98 would make the game more inviting.
We also remember that both versions for Kyo Kusanagi for game tests were equally popular. This concept for different versions of this character subsequently became the basis for the "Kyo clones."