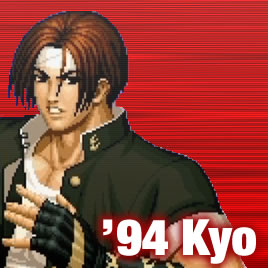 * The above data is of the KOF ARCADE version.



Fire Ball
Dark Thrust
Nebulous Gyration

*The above data is of the KOF'97 version.



Along with KOF '96 game system changes, Kyo got a new arsenal of different Special Moves, and the wielder of the "Dark Thrust" was as popular as ever. And we also added the KOF '94 version of Kyo Kusanagi to satisfy all our fans.
We were apprehensive about returning to the old character design, but this all disappeared with the warm acceptance of our fans. Do we have fans or do we have FANS!